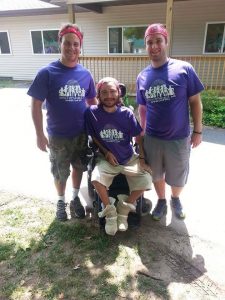 The unselfish contributions of dedicated volunteers are the lifeblood of our program. We require the assistance of volunteer attendants, program presenters, specialists, nurses and doctors. Many of the volunteers continue to donate a week of time from their busy lives year after year. Ask almost any volunteer and they will tell you it is one of the most rewarding and unique experiences.
Although it takes a lot of financial resources to pull the whole thing off, the money would indeed be useless without the generous contributions of time by the volunteers. "With A Little Help…, Inc." is always in need of volunteers for camp and other events. If you or anyone you know is interested in volunteering for what is often described as the "best week of the year", please contact us as soon as possible.
No previous special training is required of volunteers. First time volunteers will be interviewed and go through orientation and training prior to camp. The main qualification of volunteers is that they have a big heart and a genuine desire to help others enjoy life. It is indeed a truly unique experience and opportunity for all.
For a detailed volunteer attendant description go to the Volunteer Attendant Description page.
For a detailed nurse description go to the Volunteer Nurse Description page.