Expanding recreational opportunities for adults with muscular dystrophy and related neuromuscular diseases by providing an annual week long summer camp, weekend camps, and various other recreational activities throughout the year.
Virtual Summer Camp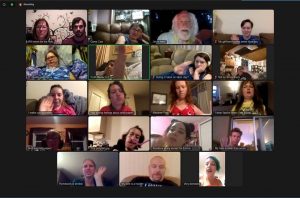 Who could have imagined that participating in summer camp through a computer or phone screen could be so much fun? We are a lucky group to have so many creative minds to collectively develop a week of online events that bring us together in ways that actually make us feel like we are at camp. Campfires, arts and crafts, games, a scavenger hunt… Even care packages with s'mores and WALH swag, delivered to our doors! As one of our members so accurately stated, "This week has been a ray of sunshine in the sea of darkness that the world has been lately." Thank you to everyone who made virtual summer camp possible! It is an invaluable treasure to belong to an organization that's more like a family.
Upcoming Events
There are no upcoming events.