Expanding recreational opportunities for adults with muscular dystrophy and related neuromuscular diseases by providing an annual week long summer camp, weekend camps, and various other recreational activities throughout the year.
Virtual Spring Camp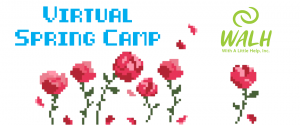 FRIDAY, APRIL 9TH - SUNDAY, APRIL 11TH
Join us for a weekend of rejuvenation and renewal as we welcome spring together, virtually! Event links coming soon.
Weekend Long - Photo Scavenger Hunt
Friday, 4/9 @ 7:30PM - Family Feud & Pizza
Saturday, 4/10 @ 7:30PM - Crafts & Bingo
Sunday, 4/11 @ 4PM - Cocoa & Chat
(and Scavenger Hunt Reveal)
Upcoming Events
There are no upcoming events.