Expanding recreational opportunities for adults with muscular dystrophy and related neuromuscular diseases by providing an annual week long summer camp, weekend camps, and various other recreational activities throughout the year.
Save These Dates!
Spring Camp:
Friday, March 15 – Sunday, March 17, 2019
Summer Camp:
Saturday, July 27 – Friday, August 2, 2019
Online applications for Spring Camp 2019 will be available by January 1.
Holiday Season Fundraiser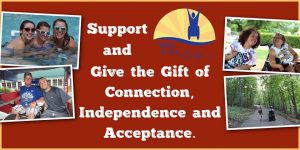 Make a difference this holiday season! Donate to WALH and help us send 10 campers to camp and #GiveALittleHelp.
For most who attend, it's the "best week of the year"... A chance to forget about the logistics of living with a disability and to establish lifelong friendships with others who face similar challenges. It costs $400 to send one camper to summer camp for a week.
Click here to participate in our Facebook fundraiser or donate through our website.