Expanding recreational opportunities for adults with muscular dystrophy and related neuromuscular diseases by providing an annual week long summer camp, weekend camps, and various other recreational activities throughout the year.
Upcoming Events
Contact vp@walh.org for the address

[more]...
Summer Camp 2018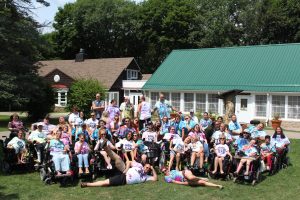 "With A Little Help…" has successfully condensed the Summer of Love into a Week of Love. We tie-dyed, cruised in Corvettes, competed in a scavenger hunt, solved a murder mystery, played Family Feud, participated in various sports activities, crafted art projects, stayed out 'til the wee hours of the morning eating phenomenal foods by the fire, and SO much more, all while enjoying the company and laughter of our second family. Thank you to everyone who helped make Summer Camp 2018 possible. Your time, effort and generosity produce cherished memories and lifelong friendships.