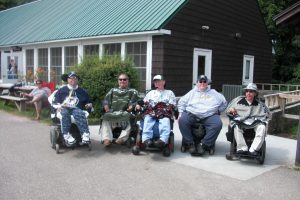 Ten disabled men, nine disabled women and ten volunteer attendants participated at Camp Byron that first summer. With fund-raising efforts coming up short, everyone contributed out-of-pocket to pay the camp bill. With disabled adults, parents, families and volunteers giving what they could the rental bill was paid with a few dollars to spare.
It was decided that if the camping programs were to continue the group would have to seek nonprofit status so needed tax-deductible donations could be raised for future camp rentals. Through months of efforts community leaders, camp directors, nonprofit executives and other individuals were brought together to develop an organizational master plan. As a result "With A Little Help…", Inc. was established. The group was formally incorporated in late December, 1982 with the organizational purpose being: "A statewide, nonprofit organization providing camping and recreational opportunities for adults with muscular dystrophy and other neuromuscular diseases". The creation of "With A Little Help…", Inc. by these disabled adults and volunteer attendants established a long-term commitment to provide camping opportunities each year.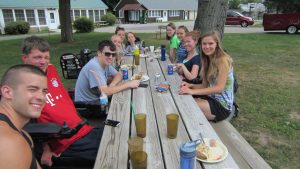 By 1986 summer camp attendance had skyrocketed forcing the group to consider leaving Camp Byron to seek a larger facility. The eventual move to Easter Seal's Camp Wawbeek in Wisconsin Dells proved pivotal in the organization's growth. Designed for physically disabled campers, the facility was "wheelchair-friendly" with ramps, roll-in showers and other amenities the group needed to facilitate more independence of its participants. Activities blossomed to include swimming in a fully-accessible pool, trail rides through 402 acres of lush woods, meadows and ravines, adaptive sports and projects in a fully supplied arts and crafts building. The number of participants grew to 79 at Summer Camp 1987.
As we look to the future, "With A Little Help…", Inc. remains a viable organization and a source of camping and social fun for many disabled adults and wonderful volunteers who assist them. Many campers and volunteers continue to return year after year to make it all possible. Without these volunteers – and the generosity of donors who help pay for it all – dozens of disabled adults would be forced to stay at home during what is often called "the best week of the year".